Charter Rode creates innovative first ever NFT comprised of raw data from blockchain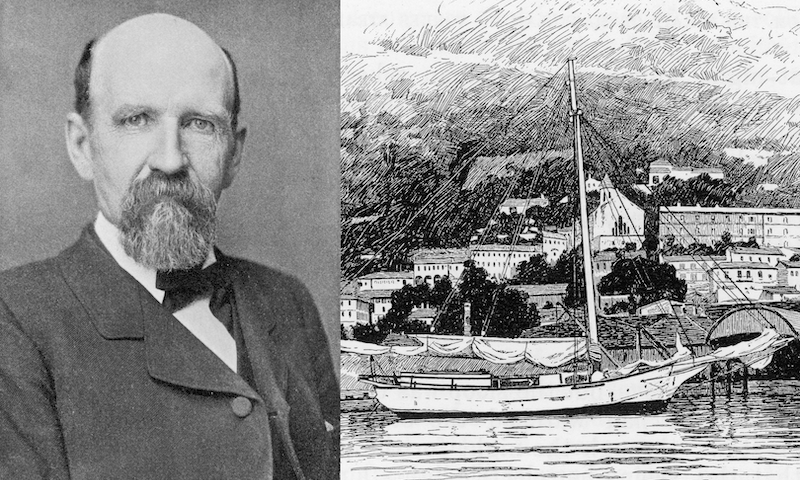 AUSTIN, TX – June 27, 2023 – Charter Rode creates the world's first non-fungible token (NFT) from raw block data of a blockchain. The Joshua Slocum Charter Rode NFT is a visual picture of the genesis block of the Sailing Resume Blockchain.
Joshua Slocum was the first person to sail single-handedly around the world. His journey started from Gloucester, MA on May 7, 1895, taking him over 46,000 nautical miles around the globe and ending in Newport, RI on June 27, 1898. He wrote a book documenting his adventure, Sailing Alone Around the World, which was first published in 1901.
To honor Joshua Slocum and the history and importance of his single-handed sail around the world, Charter Rode created a sailing resume from the details Joshua provided in his book. The underlying logbook transactions that make up Joshua's sailing resume form the genesis block of the Sailing Resume Blockchain. The non-fungible token (NFT) was created from the raw data of the Sailing Resume Blockchain genesis block.
"I had an opportunity to do something special with the genesis block. I wanted to create something unique," said Jason Burns, Founder and President of Charter Rode. "At the time I was re-reading Joshua's book detailing his round the world journey. The idea was to honor Slocum's historic single-handed sail, and also create the world's first NFT based on raw blockchain data," added Burns.
"But I didn't want to create just another NFT, I also wanted to break some new ground. The artist in me envisioned a massive wall piece that from afar looks like a block. But when you get close, you can read the logbook entries and excerpts from Joshua's book, bringing the logbook alive through his own words," said Burns.
To achieve the scale, a canvas measuring 100 inches by 56 inches with a resolution of 300 pixels per inch was used. Printed it measures over 8' wide and 4.5' tall, totaling 504,000,000 pixels or a half of gigapixel (504 MP).
Most gigapixel scale artwork today is created by layering multiple digital photographs into a mosaic pattern. This creates one large high resolution photo. The Joshua Slocum Charter Rode NFT was created using Photoshop. Rendering the raw genesis block text onto the canvas with a small font size.
In addition to honoring Slocum, the genesis block contains tributes to Her Majesty Queen Elizabeth II. These tributes are included in the Joshua Slocum Charter Rode NFT.
The Joshua Slocum Charter Rode NFT was minted on the Ethereum blockchain and currently viewable on OpenSea.
For more information about the Charter Rode NFT collection, Charter Rode, the Sailing Resume Blockchain, and how to create an account, visit charterrode.com.
About Charter Rode
Charter Rode is building the Sailing Resume Blockchain – a secure, transparent, efficient, and tamper-proof maritime resume system enabled by blockchain. The company started in 2021 with the idea that it should be easy to create a sailing resume that may be shared, verified, and trusted by anyone in the world.
The Sailing Resume Blockchain offers sailors a trusted and secure database that anyone can confidently use to determine their seaworthiness. Organizations use it to grant credentials, verify sea time, evaluate competencies, and provide value-added services to mariners worldwide.
Press:
press@charterrode.com
###