What is a Sailing Resume?
A Sailing Resume or Boating Resume is a summary of all your relevant boating experience. A Sailing Resume is similar to a professional resume that you may use to find a job. A Sailing Resume will list not only your on-the-water experience, typically logged in days, but also any certifications, licenses, and other formal education you may complete in your lifetime.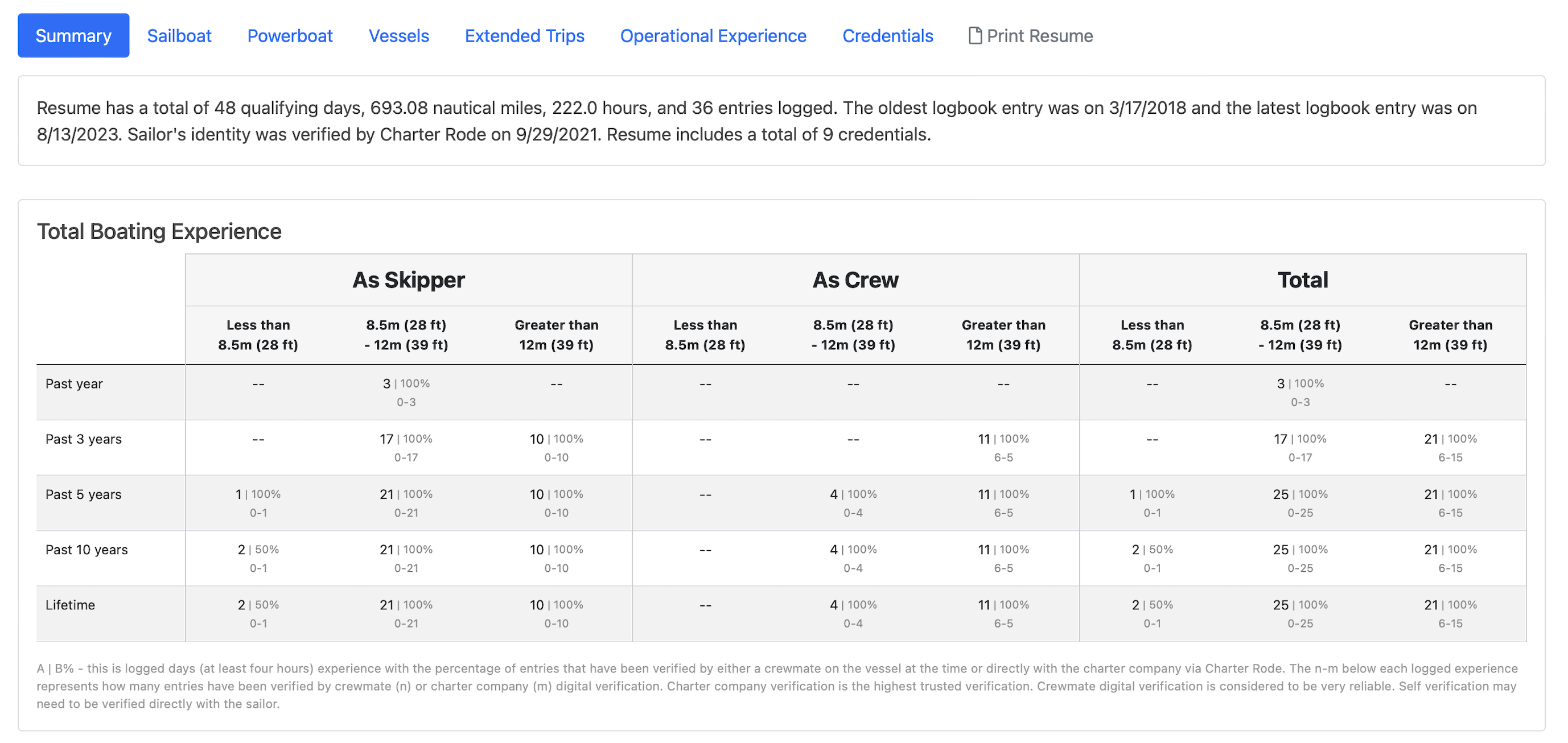 Depending upon your sailing or boating goals, insurance companies, charter companies, the United States Coast Guard and other agencies and institutions will be interested in your Sailing Resume:
Insurance Companies - if your plan is to throw your lines, weigh anchor and explore the world via any kind of boat, you will want, and in some cases be required to have, insurance. Even if you own a weekend sailboat on an inland lake, you will need to insure it. For near coastal or offshore cruising, insurance companies may require you to take on additional crew if your Sailing Resume does not meet their standards for safely being able to operate a boat.
Charter Companies - you will find it very difficult to get a boat owner, sailing or boating club, or charter company to let you take command of their vessel without qualifications. The first step is to share your Sailing Resume with a charter company. Depending upon your experience documented on your Sailing Resume, and how or if it is verified, you may also be required to take on a captain for at least the first day of your charter/vacation. Don't be suprised at the dock, ensure you have kept a detailed log of all your sailing and boating experience on your Sailing Resume.
US Coast Guard - plan to earn your USCG Captains License? You will need to not only pass the test, but more importantly, you have to show proof of experience over the past three years and your lifetime. Depending upon the license, it could be up to 720 days on-the-water! It is therefore critical that you keep careful track of all your on-the-water sailing and boating experience to ensure that you accrue enough time to meet the qualification requirements.
Other - depending upon where you sail or boat around the world, you will need to provide proof of your sailing and boating experience via your Sailing Resume. This may be when docking a house boat on Lake Powell, or sailing into port in a tropical paradise. It is always a good idea to keep track of all your relevant sailing and boating experience as you never know when you might be in a heated discussion over a few painkillers and want to win the bar bet to avoid buying the next round!
Now that we know why a Sailing Resume is so important, let's review the major components of a Sailing Resume to make it valuable and trusted by others:
Sailing/Boating Experience - this section will typically have multiple sub-sections in your Sailing Resume. Charter companies, insurance companies, and others want to see your experience by relative boat-length and recency (past year, past three years, etc). Every trip you take, even for just a few hours, should be logged in your sailing logbook. The United States Coast Guard will give credit for one day of on-the-water experience if you have a minimum of four (4) hours on-the-water in a single day. Be careful though, you don't get two days for having eight (8) hours logged on a day, eight hours is still just one day of qualifying experience! Charter Rode will aggregate all your qualifying (duration at least four hours) logbook entries into overall boating experience, overall boating experience by location type (inland/lake, great lakes, nearshore, offshore, canal), by ownership (my boat, friends boat, charter boat, commercial), and by gross tonnage (GT). In addition, Charter Rode will create additional sections separating sailboat logbook entries from powerboat logbook entries so that anyone that you share your Trusted Sailing Resume with is quickly able to determine your relevant experience without hassle. This is all done automatically by Charter Rode, the advantage of using technology!
Extended Trips - any multi-day trips that you take should be logged as a separate section of your Sailing Resume but also included in the Sailing/Boating Experience section as described above. This makes it really easy for charter companies in particular to see on your Sailing Resume that you have been either Captain or Crew of a multi-day trip aboard a sailboat or powerboat. This section typically includes the dates, number of days, number of nights (which is not just at anchor), location of the trip, general description of the boat, location type (for example inland lake or nearshore), and the purpose of the trip (training, vacation, etc.). All of this information on your Sailing Resume helps others, such as charter companies, quickly identify your experience for their needs.
Operational Experience - this section of your Sailing Resume should include skills such as docking in a marina, day and overnight anchoring, mediterranean mooring, 24 hour charter periods, and overnight sailing adventures. If you follow any Sailing YouTube channels, you will quickly realize that some of the sailors on these channels are nervous about docking their 45ft+ catamaran in a tight marina. Speaking of skills that will set you apart from the crowd, knowing the proper protocols for marine VHF radio operations will help. Don't ever end your radio transmission with 'over and out' - you are just saying 'your turn to talk' and then hanging up!
Credentials - formal training programs such as American Sailing Association (ASA), US Sailing, or Royal Yachting Association (RYA) offer certifications after taking an on-the-water class with a certified instructor and passing an exam. These certifications should be logged on your Sailing Resume for others to quickly see that you have earned these formal training certifications. In addition, any licenses or relevant permits such as USCG Captains License or the FCC Marine Radio Operators Permit (MP) should be added in this section of your Sailing Resume. Don't go crazy here, only add relevant boating certifications, licenses or endorsements that may be independently verified and formal in nature. For example, if you took a one-day intro to sailing class and got a paper completion certificate, don't add this to your Sailing Resume.
Verification - you should always get your logbook signed or verified so that when you share your Sailing Resume with others they can believe and trust that it is accurate. Have the captain you were out with or a crewmate verify your logbook entry. Always be truthful and straightforward with your Sailing Resume and experience. It is better to be asked to take on a Captain for a charter then to bring back a boat damaged or worse, lost at sea. Look for digital sailing logbooks that offer some sort of verification built-in, either crewmate or otherwise. Charter Rode has three levels of verification built-in: self, crewmate, and charter company. See the Charter Rode FAQs for more information.
It is a best practice to log your newly acquired sailing or boating experience soon after you get back to the dock while it is fresh in your mind. See the below for resources for a few different logging solutions. You will want to log the date, role (Captain or Crew), vessel information, duration, distance, time of day, wind speed, weather conditions, location information and any notes for each sailing logbook entry.
If for some reason you didn't log your experience for a long period of time, or if you lost your paper sailing or boating logbook, you may need to go back and log experience from the past. If you are able to credibly log, and ideally independently verify, sailing or boating experience, then add it to your sailing logbook and Sailing Resume. If you are a professional mariner, you will want to log every trip and have your Captain sign and verify your logbook entries. You don't want to log your SUP, jet ski, kayak, or white water rafting trips, but even skippering an 18′ ski boat can be relevant to earning your US Coast Guard Captain's License.
Most Sailing Resumes will group your sailing/boating experience into years. Charter Rode closely aligns these groupings with the US Coast Guard logging requirements and groups by past year, past three years, past five years, past ten years, and lifetime. This allows for anyone to quickly assess the recency of your experience, while also taking into account your entire lifetime of sailing experience. Be sure that your Sailing Resume has some sort of similar grouping or it may not be accepted by others.
When logging your sailing or boating experience, always be honest and straightforward with your actual experience. Don't exaggerate on vessel lengths, distances or time on-the-water, etc. You may be criminally liable and be fined and/or imprisoned for false and misleading statements on your Sailing Resume if you are ever in an accident, or an insurance company or bank may repossess your boat when they find out you don't have adequate experience to be safe on the water.
Finally, check out these resources for keeping track of your sailing or boating experience to help you build a Sailing Resume:
Charter Rode - The most trusted way to document your sailing experience. Charter Rode is a hybrid blockchain where sailors build a Trusted Sailing Resume that may be shared, verified, and trusted by anyone in the world. This allows sailors to spend more time on the water and less time hassling and arguing about their experience. Read through the Charter Rode FAQs, create your account, or sign in now.
Paper Sailing Logbook - a Google search for paper sailing logbook yields over 8 million results. The reality is that you just need a notebook that you can track all of the relevant logbook entries. One of the downsides of a paper base sailing logbook, is that whenever you need to share your experience, you have to figure out your Sailing Resume by manually adding up all your qualifying entries in your sailing logbook. You may also want to take a picture on your phone of each page so that if your logbook is lost you are able to re-create it, minus the verification signatures.
ASA Sailing Logbook - American Sailing Association, a formal sailing education provider, provides a paper-based sailing logbook for their students that you may buy here. Once again, the downside with a paper based sailing logbook is that you have to manually figure out your Sailing Resume every time you want to share it and there is no great backup solutions.
US Sailing Logbook - United States Sailing, also a formal sailing and powerboat education provider, provides a paper-based sailing logbook for their students that you may buy here. Once again, the downside with a paper based sailing logbook is that you have to manually figure out your Sailing Resume every time you want to share it and there is no great backup solutions.
NauticEd Education System - NatuicEd is a training system that combines online courses, with on-the-water instruction and provides a sailing logbook that does automatically summarize your experience into a Sailing Resume. Nautic Ed is a great supplement to formal training with an ASA, US Sailing, or RYA qualified instructor (see Sailing Education Providers). We really like the training system of NauticEd which has students progress through both theory and practical levels based upon number of days on the water logged in their sailing logbook as self-paced study supplemental studies. Their charter qualification calculator is also nifty.