Your Trusted Sailing Resume
We know why a Sailing Resume is so important. Let's review the major components of a Sailing Resume to make it valuable and trusted by others: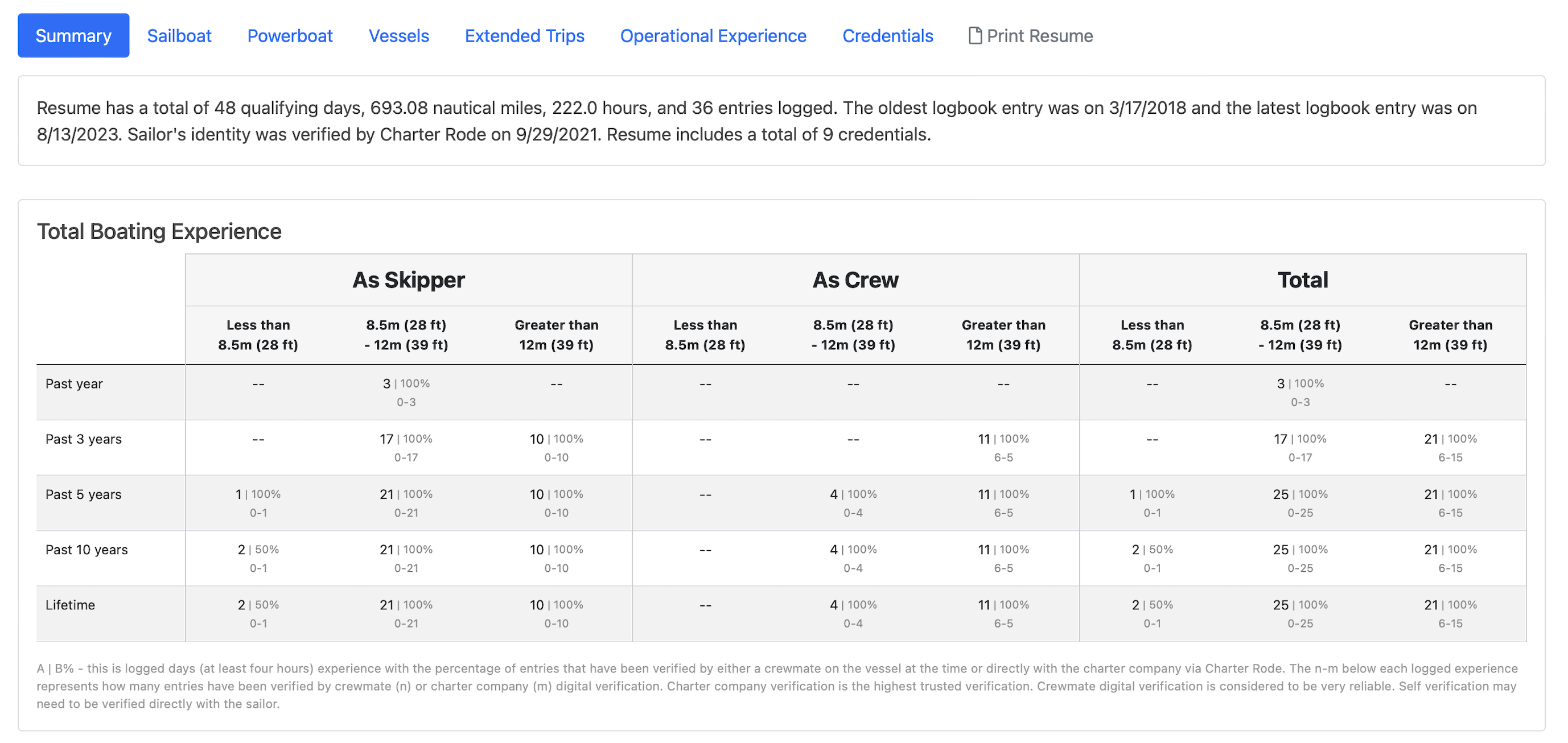 Sailing/Boating Experience - this section will typically have multiple subsections in your Sailing Resume. Charter companies, insurance companies, and others want to see your experience by relative boat-length and recency (past year, past three years, etc). Every trip you take, even for just a few hours, should be logged in your sailing logbook. The United States Coast Guard will give credit for one day of on-the-water experience if you have a minimum of four (4) hours on-the-water in a single day. Be careful though, you don't get two days for having eight (8) hours logged on a day, eight hours is still just one day of qualifying experience! Charter Rode will aggregate all your qualifying (duration at least four hours) logbook entries into overall boating experience, overall boating experience by location type (inland/lake, great lakes, nearshore, offshore, canal), by ownership (my boat, friends boat, charter boat, commercial), and by gross tonnage (GT). In addition, Charter Rode will create additional sections separating sailboat logbook entries from powerboat logbook entries so that anyone that you share your Trusted Sailing Resume with is quickly able to determine your relevant experience without hassle. This is all done automatically by Charter Rode, the advantage of using technology!
Extended Trips - any multi-day trips that you take should be logged as a separate section of your Sailing Resume but also included in the Sailing/Boating Experience section as described above. This makes it really easy for charter companies in particular to see on your Sailing Resume that you have been either Captain or Crew of a multi-day trip aboard a sailboat or powerboat. This section typically includes the dates, number of days, number of nights (which is not just at anchor), location of the trip, general description of the boat, location type (for example inland lake or nearshore), and the purpose of the trip (training, vacation, etc.). All of this information on your Sailing Resume helps others, such as charter companies, quickly identify your experience for their needs.
Operational Experience - this section of your Sailing Resume should include skills such as docking in a marina, day and overnight anchoring, mediterranean mooring, 24 hour charter periods, and overnight sailing adventures. If you follow any Sailing YouTube channels, you will quickly realize that some of the sailors on these channels are nervous about docking their 45ft+ catamaran in a tight marina. Speaking of skills that will set you apart from the crowd, knowing the proper protocols for marine VHF radio operations will help. Don't ever end your radio transmission with 'over and out' - you are just saying 'your turn to talk' and then hanging up!
Credentials - formal training programs such as American Sailing Association (ASA), US Sailing, or Royal Yachting Association (RYA) offer certifications after taking an on-the-water class with a certified instructor and passing an exam. These certifications should be logged on your Sailing Resume for others to quickly see that you have earned these formal training certifications. In addition, any licenses or relevant permits such as USCG Captains License or the FCC Marine Radio Operators Permit (MROP) should be added in this section of your Sailing Resume. Don't go crazy here, only add relevant boating certifications, licenses or endorsements that may be independently verified and formal in nature. For example, if you took a one-day intro to sailing class and got a paper completion certificate, don't add this to your Sailing Resume.
Verification - you should always get your logbook signed or verified so that when you share your Sailing Resume with others they can believe and trust that it is accurate. Have the captain you were out with or a crewmate verify your logbook entry. Always be truthful and straightforward with your Sailing Resume and experience. It is better to be asked to take on a Captain for a charter then to bring back a boat damaged or worse, lost at sea. Look for digital sailing logbooks that offer some sort of verification built-in, either crewmate or otherwise. Charter Rode has three levels of verification built-in: self, crewmate, and charter company. See the Charter Rode FAQs for more information.
The Charter Rode Trusted Sailing Resume has all of these key components along with the worlds only digital verification system that brings together Sailors, Charter Companies, and Education Providers all working together to create and verify your Trusted Sailing Resume on the Sailing Resume Blockchain.
Part of Charter Rode's security comes from the underlying blockchain and distributed ledger technologies that Charter Rode is built upon. For example, once a new block (data) is published to the Sailing Resume Blockchain, it is immutable (unchangeable) on the storage devices that are used forever. In addition, when a new block is added to the Sailing Resume Blockchain, it is simultaneously published to multiple secure and immutable storage locations around the world. Each transaction within a block is cryptographically signed so that anyone with the public keys of the signing parties, which are also included in each transaction, may verify the authenticity of the data.
Read the Charter Rode FAQs to learn more about blockchains, distributed ledgers, and how Charter Rode is built using these technologies.
Build Your Trusted Sailing Resume
For the average sailor, less than $25.00 USD per year will secure all your sailing experience and build your Trusted Sailing Resume on Charter Rode. Pay only for the experience you log. No subscriptions, no hassle. $25.00 USD per year is a very small investment in yourself, you deserve it!